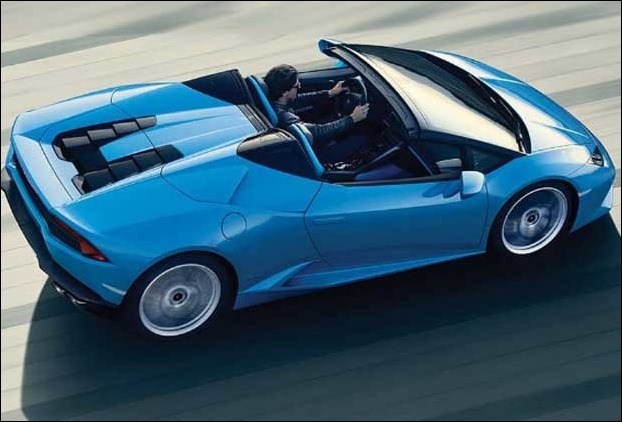 The new Lamborghini Huracan RWD Spyder is ready to launch in India. The company is going to launch this car on 1 February 2017. The RWD Spyder is the fifth variant from the Lamborghini Huracan after Coupe, RWD Coupe, Spyder and Avio (special edition). The Huracan RWD Spyder is equipped with also the same engine that is fitted in the top variant the RWD Coupe. According to experts, the expected price of the car will be around Rs 3.5 crore. The price is ex-showroom, Delhi.   
As far as engine is concerned, the new Lamborghini Huracan RWD Spyder is powered by 5.2-litre V10 engine which generates 580 bhp of power and a peak torque of 540 Nm. The engine is linked to a 7-speed dual clutch gearbox transmission. Besides, the car achieves the 0 – 100 kmph mark in just 3.6 seconds with a top speed of 319 kmph.       
In terms of features, the car got some changes in the front as well as in the rear. At the same time, it is fitted with larger front air intakes and the Pirelli PZero tyres.
Main Highlights
The new Lamborghini Huracan RWD Spyder looks like the existing Lamborghini Huracan LP 580-2 RWD, though the roof of this car is convertible.The roof of the new  Huracan RWD Spyder is lightweight and it takes only 17 seconds to open at the speed of 50 kmph.