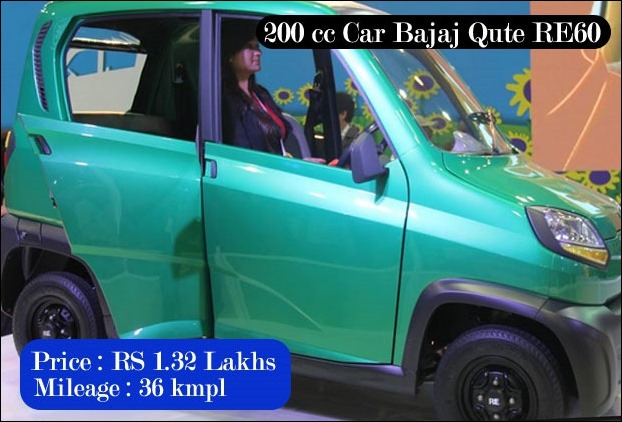 Bajaj Qute Re 60 is perhaps the cheapest car in India.The price of this car is Rs 1.32 lakh and it provides fuel efficiency of 36 kmpl. In point of fact, Bajaj Auto. Ltd. has made its first car and claims that it is the cheapest car in the world which gives maximum mileage.
The Bajaj Qute Re 60 is powered by a 216.6 cc engine that produces 13.2 PS of peak power. The engine is mated to a 5- speed transmission. It runs 36 kilometers in 1 liter gasoline. This 4- seater car has 4 doors. It can run at a speed of 70 kilometers per hour.
In terms of dimension, the car measures 2752 mm in length, 1312 mm in width and 1652 mm in height. At the same time, it has a wheelbase of 1925 mm and 1143 mm of wheel track. It has a turning circle radius of 3.5 metre. The car has 44 litres of storage capacity. Besides, the vehicle has 400 kg of kerb weight.
The Bajaj Qute Re 60 has ample seating space with 60/40 split for rear seat. On the safety front, it is equipped with large halogen head lamps and large size widescreen for better visibility and seat belts for driver and passenger. For comfortable ride, it is fitted with telescopic hydraulic shock absorber and softer entry bump stoppers. 
Here, it is worth- mentioning that the Bajaj Qute is a 4- wheeler, yet not a car. As a matter of fact, it comes under a whole new category – the quadricycle.
Bajaj Auto has been eagerly looking forward to launch the RE60 rechristened as 'Qute' in India and has been caught testing once again. It is still awaiting its launch as Supreme Court order for selling the vehicle is still pending.