Recently the Indian auto major Mahindra launched an electric car in India named 'E20 Plus'.The E20 Plus which . stands for Energy to Oxygen , was specially launched as a car which anybody requiring a car with a low running cost and which can be 'charged' at home itself.Let us explore the top features of this car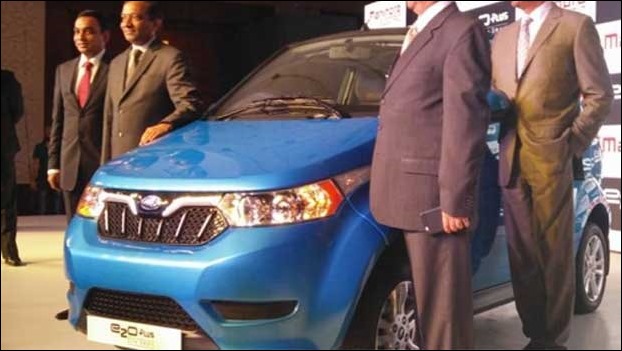 1

A Small Family Targeted Car

The old Reva , and E20 (2-door) by Mahindra were very small and compact in size.E20 classic was bigger but it only had room for 2 kids in the rear seats.The new 'e20 plus' however is spacious as any other regular hatch backs in India.The cars length and height has also been increased than previous E20

There are three variants this car has been launched in.They are P4 (Rs 5.46 lakhs) ,P6 (Rs 5.95 lakhs)  and P8 (Rs 8.46 lakhs ).All variants prices range from 5.46 lakhs to 8.46 lakhs.The prices include the discount which is given to electrical vehicles in India.There are 4 doors in the car.
2

Top Speed is 85 KM/H and Battery

Mahindra's E20 Plus has got a motor of 40 BHP which generates 91 NM torque.The top speed of the car is 85kmph.The electric car can attain 0-40 km/h speed is just 5.2 seconds.On a single full charge the car can travel a distance up to 140 Kilometer.The Car uses Lithium-ion battery which takes 6-9 hours time span for a full charge.The top variant of the car is equipped with a bigger size battery of 72V.
3

Mobile Operated Features

The cars existing system can be controlled with a mobile app or the buttons that the car has been given.The app lets you control the car's switch to on or off and locking or unlocking of doors.Another interesting feature is that you can cool your car via your smartphone app remotely.The car can also plan a route map of your journey.
4

Design and Look

The front and rear of the car has received fisk brakes.A new grill has also been installed.It has also got 14 inch wheel rims.The tires of 165/60/R14 sizes have been fitted in this car.The wheelbase of the car has also been increased to 2258 mm.The car has a boot space of 135 liter.The car features with projector head lamps,rear spoiler and new led tail lamps.The cabin dash board looks remain unchanged as in earlier E20.
5

Advanced Features

The car has been equipped with GPS navigation system and an onboard computer.The SOS feature in this car warns the driver about depleting battery and helps to run an additional 7-10 KM before a charge.Other features include Hill Hold Control , Automated Message , Reserve Charge and Regenerative Braking.