A battery operated ride on car not only provides your kid an thrilling ride but also a safe one at the same time. Now, there are several kids ride on electric cars in Indian market and it really depends upon your budget and choice to buy them.
There are economical options also available in India starting from a price of around Rs 5000.
In this post however , we are discussing some very realistic cool licensed toy replica of famous cars across the world.
1

Volvo XC 90
The Volvo XC90 another kids ride on car which is available in India.To ride this car one does not need a license .The car with pen drive , Bluetooth and FM also has rear and front lights which auto switches off after 10 minutes.It sports leather seats , full suspension and EVA tyres for silent smooth ride.The car which comes with a parental remote comes in 3 colours.
The toy car for kids can be driven by anyone between 2-7 years of age.The model has 2 seated option with door opening facility.It can be operated through remote by you  or manually by the kid.
The kids ride on XC 90 replica car was found to be sold at Rs 18,500.
2

Audi Q7
Audi Q7 kids ride on car is also available in India. The battery operated car is perfect for kids between 1-7 years of age.
The 22kg curb weight kids electric car with double motor uses 12 v battery to power the ride.The toy ride on car can be accelerated to a low or high speed.Like XC 90 it can also be operated by a remote or manually from the car.
Audi Q7 licensed version has got 12V battery and 2 forward gear and 2 backward gear options.
The car can accelerate to 2-4 km/h in 1sr gear and 4-6 km/h in 2nd gear.The maximum load capacity is 30 kg and charging time is 8-12 hours.
The doors, however, are not openable.
The car can be purchased from amazon, listed here – https://amzn.to/2PjS3ss
3

Ford Ranger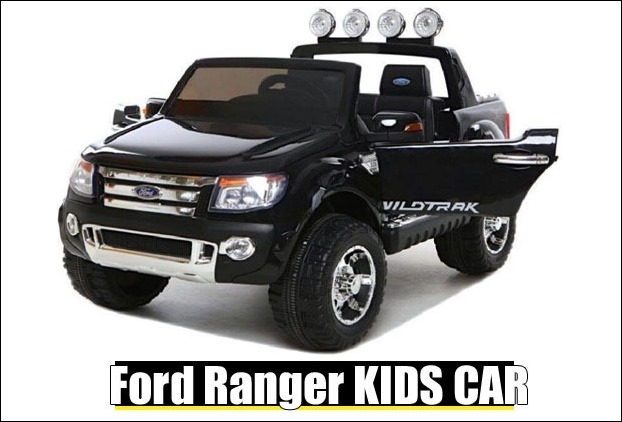 A licensed Ford Ranger is another awesome looking kids ride on car to put a smile on your toddlers face.
You can control it with a remote externally or your kid can use the pedal accelerator that this car has been given with.
The EVA wheels deliver smooth ride and anti slip protection.On a full charge (6-8 hours charging time) it can deliver 1.5 hours to 2 hours ride.
The toy car has openable hood and tailgate for easy storage as well.The car delivers real ignition sound with the Push Button.The car features are awesome.It has a realistic horn , MP3 player and flashlights.The 70W motor of the kids car helps to achieve speed between 3-8km/h.
For Rs 29,999, it can be purchased from Amazon, listed here – https://amzn.to/2UbebE8
4 

BMW X6
BMW X-6 ride on toy electric car has a price of Rs 21,500 in India.The double motor and double battery kids car can be drive by Kids above 2 years.
The 16 kg cool replica has authentic badges, LED lights, MP3 system as well.The 12v battery operable ridable kids car has operable doors and can be controlled with a remote or internally by steering wheel foot pedal .
In India you can buy this working toy replica from indiamart for Rs 15,000
5

Mahindra Thar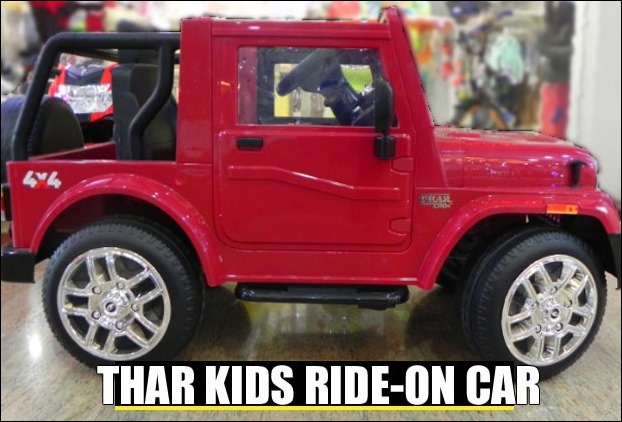 The toy version of SUV Thar was launched by Mahindra at Rs 17,900.The Thar horn and vehicles engine sound shows flashes of real Thar.
Its top speed 4 kmph and takes 12 hours for a full charge. On a full charge a duration of 1 to 1.5 hours can be achieved from toy Thar.
It has functional doors and comes with a safety belt.
The kids Thar has a front and back gear along with USB Audio player.
You can make an enquiry to buy this car from Mahindra dealrships from here – https://www.mahindrathar.com/tharride-on/