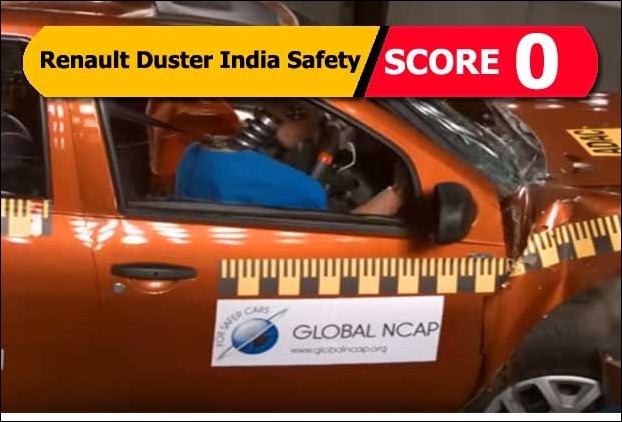 The popular car of the country – the Renault Duster has got zero point in the crash test. Without an airbag model of the company got this number. In fact, this crash test was done by Global NCAP under Safe Car for the India Campaign 2017. This test was done on Duster's basic variants – STD and RX being sold in India. It has proved that without the airbags this car is not safe in any way.
It can be seen in this picture, what happened to the dummy passenger sitting in the car after the test. Although, it was successful in securing two points in the protection given to the children in the back  seat.   
While, the Duster RXL with one airbag proved slightly better in the crash test. This car also performed well in child protection and scored points. In the Latin ACAP, this car had 4 points with a single airbag in 2015, but in its investigations, the Global NCAP here, it is found that the Duster company which is using the airbag here is smaller than Duster's airbag sold in Latin America.
The Global NCAP also found that when the airbag opened in the Indian Duster did not come in contact with the driver's head which was supposed to be, it is likely to cause more injury in the accident.
However , in a crash test conducted in Latin USA it was noticed that the installed airbags had well covered the head and chest of the driver.NCAP warns that airbags should only be installed where it can ensure the safety of the driver and not just for the sake of formality.If we analyze the scenario in this respect the French Car  manufacturer is playing with the life of people just for the sake of a business.