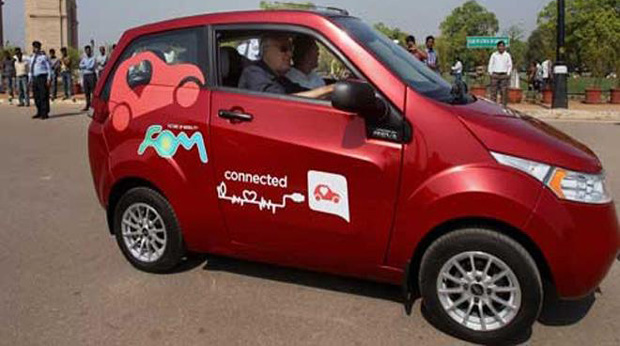 Mahindra & Mahindra's new baby e20 – the lithium ion battery propelled electric car is here.The car is a successor to Reva – the original electric car that first appeared way back in 2001.This car developed by Reva Electric Car Company is 25% bigger and 15% wider than old Reva .The new e20 , a price of Rs 5.96 Lakh ,is going to give you 100 kilometers on a full charge which takes upto 5 hours.
The battery provided with the car is enough to survive for 5 year as claimed by M&M although officially the lithium ion battery comes with a warranty of 3 years and 60,000 kilometers.Charging is hassle free with 15 ampere electric socket and the battery back is placed beneath the drivers seat.
You can clock your speed up to 60 kph (not the max) without any problem which makes it more than ideal in city's crowded traffic conditions.The two door car is able to adjust two people at the back with ease and has a useful boot space to carry couple of luggages.
The dash board is nice and comes with new age "connected car technology" which is helps controlling car's door lock and air conditioning with your smart phone.Thea touch screen music system and air conditioning system works quite well in this automatic gearing enabled e20 electric car.