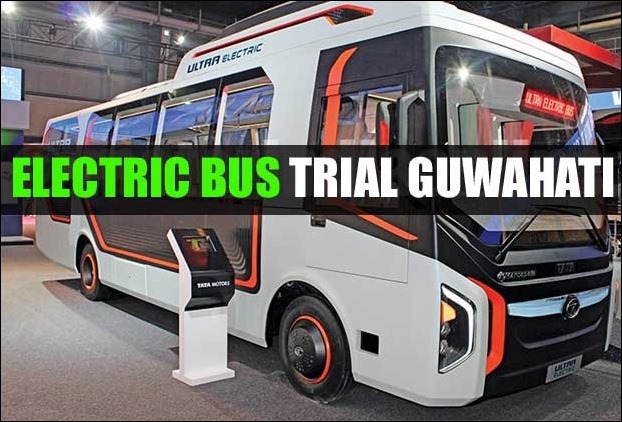 Vehicle manufacturer Tata Motors has started operating its electric bus trial-run in Guwahati, the capital of Assam today. During this seven-day trial, through the electric bus, the FIFA team participants and devotees will be provided free transport services from Paltan bazaar to Kamakhya temple.
According to the release issued by the company here, Tata Motors, the first company of the country to acquire ARAI and homologation certificates for nine meters and twelve meters of electric buses, has started testing its nine-meter electric bus in Guwahati. The seating capacity of this bus is 26 to 34 passengers.
Anand Prakash Tiwari, Managing Director of Assam State Transport Corporation (ASTC), flagged off the full- auto transmission, Tata Ultra electric bus. ASTC will examine it for seven days in partnership with Tata Motors.
This test is part of the successful test of nine-meter electric bus from Parwanu to Shimla a few months ago, where its performance was marvellous and it covered a distance of 160 km after a one- time charge.
The result of its testing in Chandigarh was also very encouraging and with a nearly 70 percent charge, the bus covered the distance of 143 km. These tests are part of the agenda for the electrification of public transport of the Road Transport Ministry and for this, Tata Motors is getting ready with its own range of electric vehicles.
Electric buses are equipped with high efficiency drive trains and eco-friendly batteries, which have been linked to the Tata Motors-owned energy management system and the Vehicle Control Strategy to reduce the total cost of ownership.
The EV battery is liquid cooled and it has been specially designed according to the Indian temperature, thereby increasing battery life and its performance is also good. The roof-mounted battery provides protection from water accumulation in electric equipment.
The range of buses can be increased from 200 to 240 kilometers with charging from small battery packs. Electric buses can also be equipped with all modern features such as multiplex system, ITS enabled, automatic tickling / smart card enabled system and reverse camera assists, which can be fitted on the request of customers.