This time the curiosity revolves around the announcements of Hybrid and Electric Cars at 2018 India Auto Expo in Noida.The Expo will open on Feb 9 and this time 50 electric and hybrid vehicles will be showcased.It is expected that most of the showcased models are to be already working models and will carve its niche in 2-3 years.
According to industry experts car manufacturer's are seeing more opportunities in lower segment , Most of the products to be showcased at the Motor Show will fall under budget segment.We will be focussing on 5 eagerly awaited upcoming Electric Cars to be unveiled in 2018 at the Expo.
Electric Cars 2018 India – Shifting towards Electric Vehicle segment !
1

Maruti e-Survivor Electric SUV Car
Maruti Suzuki will put its quirky e-Survivor SUV concept on display.The company had showcased this 2-seater roofless electric car in 2017 at Tokyo Motor Show.Let us remind you that this is also MSIL's first electric car.
e-Survivor Electric SUV Car by Maruti expected to have massive ground clearance, huge wheel arches and nice wheel size delivering it an off-roading capability.The cabin of e-Survivor Electric SUV has a large glass panel concealing the mechanism of doors operation. A spherical display shows the car and its surrounding areas. The car gets many sensors mounted around the SUV to relay information to the screen
The USP of this electric off-roading suv is its Light weight structure based on ladder frame chassis which resembles to that of Jimny and Vitara.
This all-wheel-drive electric Car in India is expected to be powered by four electric motors which each motor driving its own wheel.
In Indian perspective , Maruti only manufactures mild hybrids – SHVS (Smart Hybrid Vehicle System) cars for sale in the Indian market.SHVS system of Maruti has an auto start/stop feature with a small electric motor functioning as an additional power source to the engine.
2

Tata Tiago EV version
The performance in terms of Sale for Tata Tiago , launched in 2016 , has been very impressive.The success of Tiago in the India market has encouraged Tata Motors to launch its electric variant Tiago EV.The company had also showcased the electric version of Tata Tiago last year in UK.The company will perhaps showcase it as an affordable electric car with a large scale production.
Tiago's 40 Bhp electric motor delivers a range of about 120-150 kilometers per charge. With the use of a fast charger it takes 90 minutes to charge upto 80%.
1040 kg Tiago EV has a lithium-ion battery pack.Its effective cooling system can help prevent over heating.
According to Tata's earlier claims Tiago EV can accelerate from 0-100 kph in about 11 seconds in sport mode.
The front wheel drive Electric car from Tata can achieve a top speed of 135 kph.The all electric version with 85 kW motor (200 Nm torque) does not have a gear box although.
According to market analysts if Tagore can impress buyers only if its is priced under Rs. 10 lakhs.This is because Indian electric car market already has Mahindra E2O and e-Verito both performing not so good because of their high price tag.
3

Renault Zoe EV electric car
Renault may also reveal its electric vehicle 'Renault Zoe EV' hatchback at the Auto Expo of 2018 in India.The car is already on sale in European markets.
Zoe EV has 2 electric variants R90 and Q90.These variants output 91 BHP (Torque 225 Nm) and 87 BHP(Torque 220 Nm) respectively.The Zoe Electric 40 – the latest model comes in 2 types of battery packs – 41 KWh and 22 KWh.Its 41 KWh version of R90 variant has a range of 403 kms while in Q90 variant the claimed range is 370 kms .Renault Zoe R90 variant with 22Kwh battery pack can deliver a range of 240 kms on a single charge.
Renault Zoe , 7kW charger , can take 8-9 hours for a full-charge.It's Chameleon Charger can charge from zero to 80% in as little as 60 minutes.
The top speed of the Zoe is around 150 km/hr. The electric car under its front grille cleverly conceals its charging socket .
If Renault Zoe EV is priced above Rs 10 lakh in India, it find as many takers as the company might expect its product to be.Not to forget , the car's has international market price of $ 27,000 and technically in India India its price might not be less than Rs 15 lakhs.
4

Mercedes Benz EQ electric car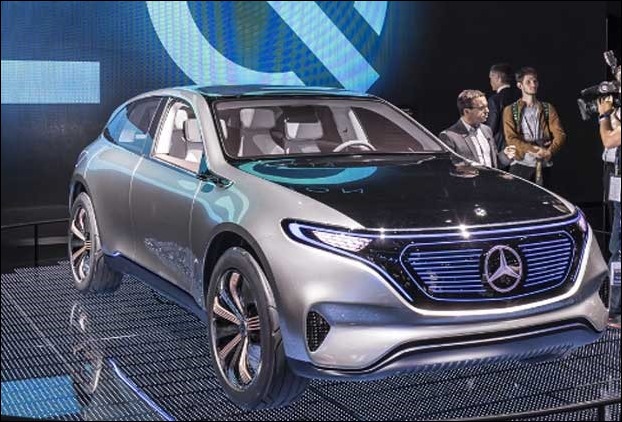 Mercedes Benz's first all-electric vehicle range in India Benz EQ suv will be unveiled at Auto Expo 2018.The Benz ev 'EQ' with 300kW engine will be powered by a twin electric motor.
With that engine , It can output 402 BHP power and 499 Nm of torque.Its 70 kWh battery lithium ion battery pack is installed between the axles.This Benz electric car can deliver a range of 500 kilometres.
Mercedes Benz EQ electric car can accelerate from 0-100 km/h in just 5 seconds.The elegant features of the electric suv will the hidden windscreen wipers , invisible door handles and use of cameras in place of exterior mirrors.
The huge cabin has a floating wide-screen display.The all-wheel-drive EQ electric will get an SUV coupe design.It has gesture controlled infotainment system and automatic climate control.Although nothing has been said about the concept suv's price in India , Internationally it will likely to cost $100,000.
5

Hyundai Ionic EV India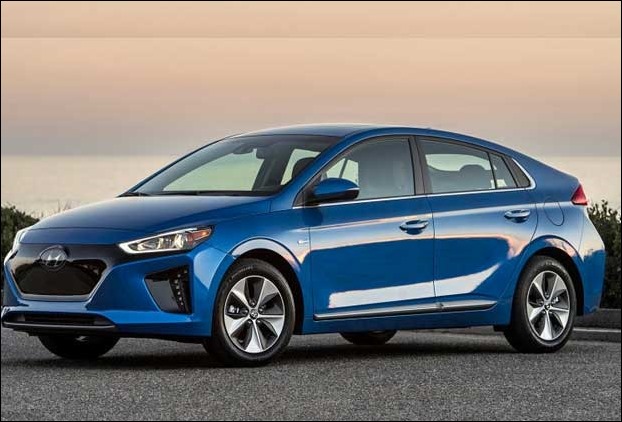 Finally , Hyundai has announced to showcase its terrific mileage electric car Ionic in India.It is speculated that company will price this car in a budget segment keeping in view of Indian buyers perspective.Globally this ev comes in 3 variants – Hybrid, Plug-in Hybrid and All Electric.The price of this car in India might fall above Rs 20 lakhs.
Hyundai Ioniq all-electric car expected to come with a 28kWh lithium-ion polymer battery.With a regular socket it can be fully charged in 9-10 hours.The quick charging sockets will take around 4-5 hours to fully charge this electric sedan.Hyundai IoniQ EV electric motor outputs 118 BHP power and 295Nm of torque.The car can deliver a range of 280kms on a full charge.In a mere 10.2s it can accelerate from 0-100 km/h.Its top speed is 185 km/h,
The other variant Ioniq Hybrid with 1.56kWh lithium-ion-polymer battery placed under its rear seats delivers 43hp power and 170Nm of torque on electric motor.Its total engine output is 139hp (electric motor+engine) @ 265 Nm of torque.