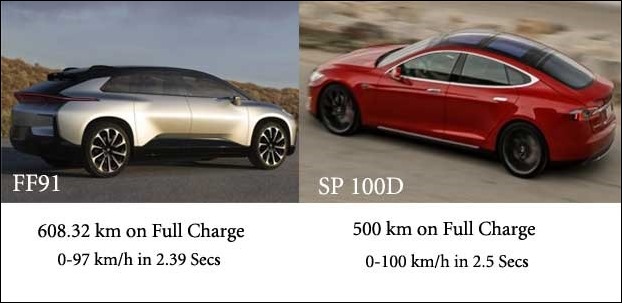 Faraday Future has claimed to have developed the world's fastest electric car.The car company showcased its new car FF91 in Las Vegas to challenge Tesla' electric car.
Faraday has introduced this car in the consumer electronic show (CES) 2017 in Las Vegas. In fact, Faraday is desperate to break the Tesla's domination in the car market. The company says this electric car is a new generation car which attaches you to the world all time.
As far as the features of the car are concerned, the main highlight of the car is it can run 608.32 km if fully charged. In so far, if you drive this electric car at the speed of 88.51 kmpl, it can determine the distance of 775.70 km in a single charge.
The electric car by Faraday is extremely fast and generates 1050 hp or 783 kilowatts. The car accelerates the 0 – 97 kmph in just 2.39 seconds. The FF91 car is equipped with two aerodynamic antennas which work as Wi-Fi connection system.
According to the company's executive VP of engineering, Nick Sampson, it is the first day in the new era of automobile industry. This electric car is of new kind. The car is equipped with technology. With the help of semi autonomous mode, the car can be self parked. At the same time, the car is equipped with many modems to connect to internet.
According to the company, the FF91 can be booked against a payment of five thousand dollars or approximately Rs 3.4 lakh. The first delivery of the car will be begin in 2018. The company will start the production of this electric car in the Nevada plant from this year.    
In the August 2016 , Tesla had announced that its electric sports car S P100D powered by the ' new battery pack ' could attain 0-100 km/h speed in just 2.5 mere seconds and that it can travel 500 kilometers on a full charge.