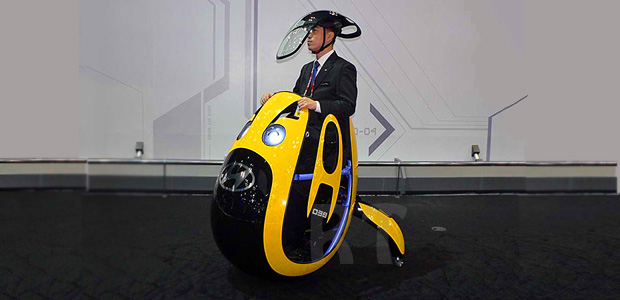 Hyundai is eyeing on personal transportaion with its egg shaped E4U one seater concept car.The car balances itself with a rotating front area and two training-wheel-like support at the back. The foot pedals propels the car which can match a walking speed.The E4U roof top can transform into a head-mounted windshield helmet with a chinstrap.
The E in E4U symbolizes evolution, electricity, eco-friendliness and egg according to Hyundai.The motive of the company is to find a transport solution for high traffic city conditions. The rear legs are foldable and helps in steering towards parking areas.
The car has no wheels but a base hemisphere powered by 500 watt (24 volt) battery.The controlling of the car can be done by tilting and turning of the drivers body.The car speed was quoted upto 18 miles per hour at the max.The car displayed at Seoul Motor Show 2013 has a weight of approximately 80 Kgs.