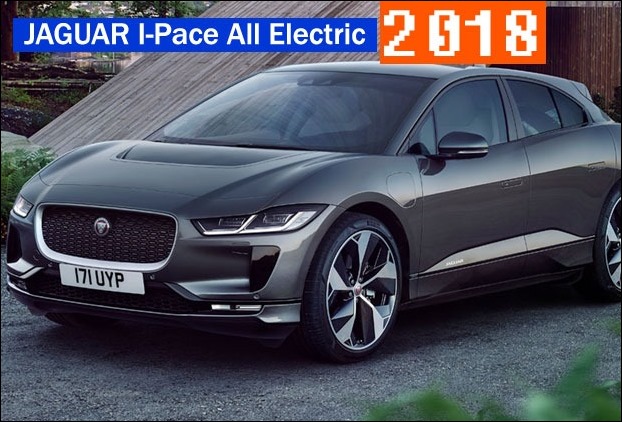 Jaguar has launched its first 5-seater all-electric-SUV – Jaguar I-Pace 2018.The biggest attraction of this new electric SUV is that on a single full charge it is claimed to deliver 298 miles (480 kms) range.Its concept was first unveiled in 2016 when the company had said that it will introduce all-electric-car that will compete with long range suv's.The new I-Pace 2018 SUV is targeted to compete with Tesla X 75D which has a range of 381 kms on a single charge.
Equipped with 2 Electric Motors
Jaguar I-Pace 2018 is fitted with two electric motors which is designed by the company itself.These electric motors are connected to 90-KWh Lithium Ion battery packs.
The maximum power output by its 90 KWh battery is 400 PS (294KW) and 696 Nm.
0-96.5 km/h speed in 4.5S
Even though it uses an electric motor , the suv , is no less powerful than any traditional SUV powered by fuel or gas.The suv catches 0-96.5 kilometre per hour speed in just 4.5 seconds.The electric motor power of I-Pace seems not inferior to any regular SUV's engine power.
Fast Charging Support
The new Jaguar has also been enabled with fast charging technique.Its 100-KW DC rapid adapter takes only 40 minutes to charge up-to 80%.A normal wall outlet of 230V/32A with 7KW adapter takes 10 hours to charge the same amount.Rapid charger might need to be purchased separately but it has distinct benefits.
Navigation System Shows Charge Status
The new Navigation system in the electric suv by Jaguar will also display charging status in addition to how far your vehicle can go with that charge.The vehicle has also received dual screen touch pro infotainment system which was spotted among Range Rover Velar features last year.
Car Stats on Smartphone
The all wheel drive new I-Pace 2018 SUV by Jaguar will also deliver important piece of information's via your smartphone through its .Its voice command assist answers when you ask if your car is locked or whether the car has enough battery charge to cover a range of 100 kms.
The new Jaguar i-pace has a maximum boot space of 656L.It has 11.98 metres turning circle and a fully laden ground clearance of 142 mm.Its gross weight is 2,670 Kgs.