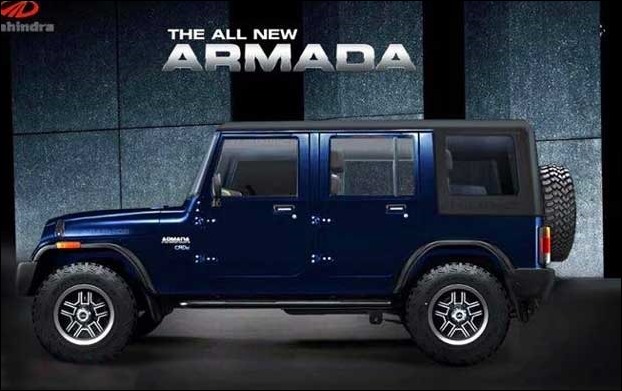 Mahindra may launch an updated model of its first SUV Armada soon.The look of this SUV is just like Hummer. In the country, Mahindra's first SUV was in great demand. Here it is noteworthy that it was the first product of the Mahindra in the automobile sector that had shown the way to the market. The company can keep the price of new Armada in between Rs 6 lakh to Rs 7.5 lakh.
Mahindra Armada 2017 ?
The look of all new Armada 2017 is quite different compared to the old version. Although, it is in the rectangular shape like the old Armada. Large LED headlights in the front, indicator in the grille and beefy front bumper have been installed in this new SUV. At the same time, 5-door has been given with hard-top cabin and 5-spoke alloy wheels with large tires have been also given.
The company has not given any information about its launch yet. Production of the SUV has not even started, though it is believed that Mahindra will launch it in May Auto Expo, after which there will be talk about its launch.
In terms of the engines, the older model car has fitted with the Peugeot 2.5 liter diesel engine. This engine generates 72 bhp of power along with 152 Nm of torque. At the same time, the top speed of the car is 100 kmph. This car was replaced by Bolero.
Mahindra Armada Update 2018
Although , this armada looks excellent and many people hope that it is quite possible that Mahindra can revive the Armada.No news about its test mules have come been heard.Experts think that these Mahindra Armada viral images might be photoshopped.This is because it displays a seven slat grill (not M&M's feature) which was already patented by Jeep (Chrysler).