The bike customization i.e. bike modification that suits your needs and style was earlier limited to amateurs who wanted to get their new bike modified with their likes but the trend has now escalated to people who want tweaking on their older bikes as well.Interestingly these personalized bikes are not confined to calendar and wall papers only.Check out the Gurus of Bike Customization in India
Rajputana Custom Motorcycles
Founded in 2009 , Rajputana Custom Motorcycle is the top motorcycle customization firm in Jaipur.The man behind this popular firm is Vijay Singh.The company got much accolades for its customized Royal Enfield 350 version showcased at Delhi Auto Expo of 2010.This bike name 'Original Gangster' was like by Bollywood celebrity John Abraham and he bought one for himself !
Old Delhi Motorcycles
The iconic restoring and customizing firm named 'Old Delhi MotorCycle' was started by Bobbee Singh.The 1973 born , Bobbee , buys old Royal Enfield bikes and transforms them to wonderful adventurous machines.The person likes to work on British Bikes – Norton , BSA and Triump.The firm charges between Rs. 3.5 and 4 lakh for customising a bike.If you want to give an an adventurous and vintage look to your bike 'Old Delhi Motorcycles' are the people to contact.
Bulleteer Customs
Bulleteer Customs – the Bangalore based firm's journey started with limited resources.Ricardo Periera is the owner of this firm.The firm is now a well known bike modifier in India.In the Royal Enfield Riders Mania event hosted by Brotherhood of Bulleteers Motorcycling Consortium (BOBMC) its bike was awarded 'Best Custom Bike'.
TJ Moto
26 year old Tushar Jaitley's 'TJ-MOTO' is a popular custom motorcycle studio in Delhi.At one point of time he used to do sketch cars but late on he shifted his creativity towards bikes.The first custom bike building project of Tushar was Harley Davidson Iron 883 which he named 'Nadia'.The bike got attention and praises at the India bike week.
Vardenchi Motorcycles
Vardenchi Motorcycles is another big name in custom made bikes in India.The firm based in Pune is run by , Akshay Varde, who has carved a niche with this art of his in Bollywood.He customized his first bike 'Royal Enfield' in 1977.With a 32 crew members he can change the look of any bike.Indian film stars Akshay Kumar and Jackie Shroff are his esteemed customers.He also happens to be the husband of bollywood actress 'Sameera Reddy'.
Road Rage Custom Builds
Road Rage Customs was started in Mumbai in the year 2009.Gabriel D Zuzarte , the key bike builder , is expert in transforming bikes to Classic American Choppers.Of late the firm is also trying its hand in car modification arena.The quality work of the firm has earned it numerous popular bike customization awards.
PanjLoh Hand Made Motorcycles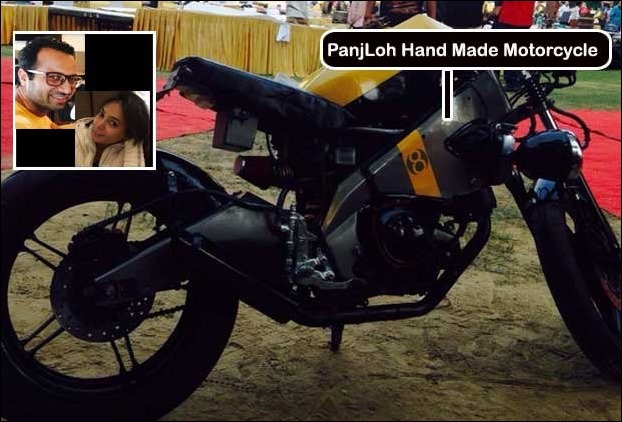 PanjLoh Hand Made Motorcycles is Punjab based motorcycle modifier firm.Situated in , Bhatinda , the company customizes Choppers , Bobbers and Caffie Racer bikes.The company's hand made motor cycle 'Bulletproof' made it very popular and shows the elegance of their work.The firm was founded by Tarun Sidhu and Aman Laungia.