The battle has gone fierce among sub compact cars in India with the recent launch of Tata Nexon.Tata Motors presented Nexon for the first time in 2014's Auto Expo show and now this car is in direct competition with Maruti Suzuki Vitara Brezza.Let us compare and find out the drawbacks and advantages of both cars above one another.
Vitara Brezza has better ground Clearance while Nexon is longer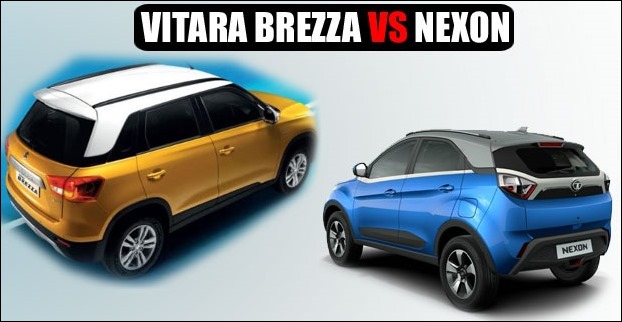 Both Tata Nexon and Mauti Brezza cars come under sub 4 meter range.While Brezza is 1 mm longer and 33 mm higher than Nexon , the Nexon has a better ground clearance of 209 mm (Brezza has 198mm).
The floating roof design with a contrasting colour delivers a sporty and stylish look to Vitara Brezza.The turning radius of 5.2 m in Brezza is slightly better than Tata Nexon (5.1m).The Nexon on the other hand has an aggressive look with contrast shoulder line trim and x-shaped rear garnish.
Cabin & Interior Comparison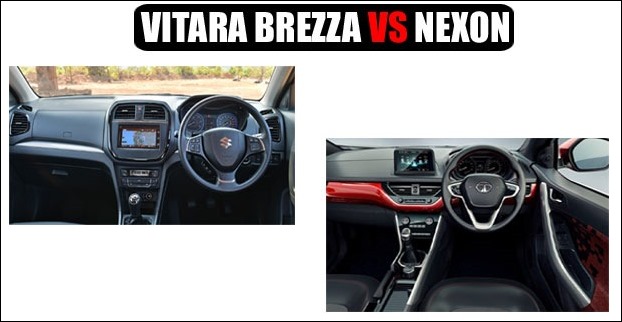 Both Cars have received sporty looking black cabin if we talk about the interiors.Tata Nexon has gone further to use grey plastic cladding.The glossy black colour in the center console of Nexon makes an awesome interior.Both these cars have got tounch screen infotainment with Apple Car Play and Android Auto in addition to USB Connectivity , AUX , Bluetooth and Navigation.
The 350L boot space in Tata Nexon is also more than 328L boot space of Brezza.
Tata Nexon Engine is More Powerful than Brezza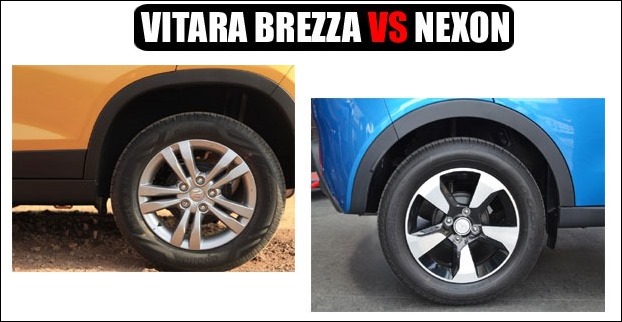 Comparing Tata Nexon and Maruti Brezza Engines we can see that Nexon has 1.5L diesel engine which produce 108 BHP power ( 260 Nm torque) .The car has been given 6-speed manual transmission.Against this Maruti Vitara Brezza performs weaker with 1.3L DDis diesel engine which can output 89 BHP power (200 Nm) torque.Brezza has been given 5-speed manual transmission.
The engine displacement of 1497cc is better in Tata Nexon against 1248 cc in Maruti Suzuki Brezza.
Safety Comparison
In terms of safety both the cars have been equipped with Front Airbags and ABS.The cars fulfils the safety standards set up for the cars in this category.