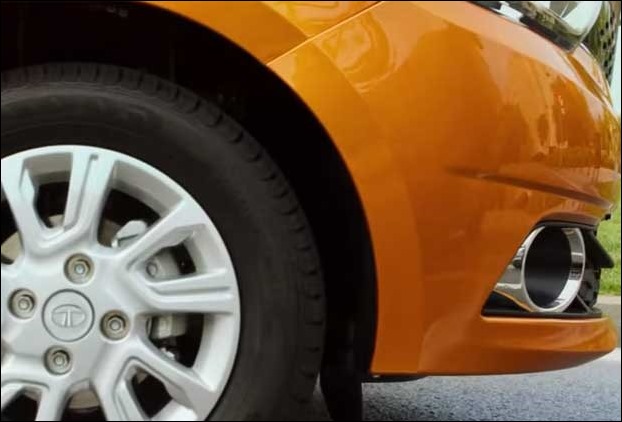 Tata Tiago has received a good response in India .This has been due to the fact that it has more features for the same price in its segment.In fact , Tata Tiago Automatic Transmission (AMT) version went on a sale since last month for a price of INR 5.39 Lakhs.However , unlike the speculations about it being launched in two AMT variants it was introduced only in top-end XZA petrol version.
Tiago is based on new Impact design theme – an innovative and fresh outlook , developed by Tata Motors , keeping in view of young buyers.The sales suggest Tata has been successful in its attempt to lure the targeted customers.According auto industry experts Tata Tiago design is way better than other cars in the segment.
Tata came across some problems before the launch of Tiago.The car was earlier called 'Zica' but just before its launch the outbreak of a deadly virus across the globe bearing the same name forced Tata Motors to change Zica to Tiago.Tata has thought three possible names Civet, Tiago and Adore and ultimately after an online survey  the name 'Tiago' was finalised.
Tata Tiago has successfully passed the rigorous test called 'Geared for Great' where it was run for non-stop 18 days covering a distance of 50,000 kilometers.Both  variants (diesel/petrol) of Tiago had participated in this event.The car's glove box has Male, female & baby elephant's in different sizes.These possibly reflects the vision of a perfect family car.
There is also an interesting co-incidence that Tata has selected star footballer Lionel Messi as the global brand ambassador for Tata Tiago and the name of his son also happens to be Thiago which sounds similar to the brand.
You might be surprised that in its segment Tata Tiago is the only car which is offering Harman Kardon 8 speaker sound system.The quality of sound produced by its 4-speakers and 4-twitters is unparalleled if you compare it with other cars in this segment.
Tata has already received 83,000 bookings for Tiago since its official launch in April last year.According to the last reports Tata Motors was planning to double Tiago's production capacity in order to meet the increasing demands of this car.