Some SUV's in India have been purposely designed to withstand the problems of uneven terrains.When you drive these off-road suv's on rough and patchy roads you would not experience any issue.These SUV's have been developed keeping in view of delivering power to all wheels i.e. 4-wheel drive system , high ground clearance and water wading ability which helps a car to pass through even a flooded road.
Ford Endeavour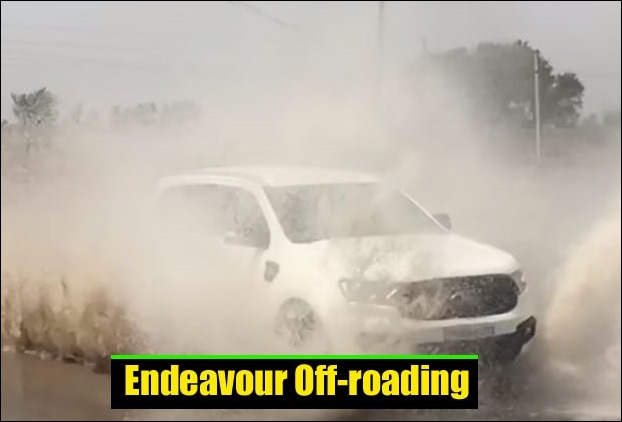 Price : Rs 31.40 lakhs (*showroom price)
Water Depth Sustainability : 800 mm
Ford Endeavour is a 15 feet off-road beast with 6 feet breadth and height.It has a massive ground clearance of 225mm which helps it drive even mountain rivers.It is available in 3.2L and 2.2L with All Wheel Drive and 2 Wheel Drive.The powerful suv's 2.2L diesel engine outputs 157 BHP of power at 3200rpm.Likewise , its 3.2L petrol engine is even more with 196BHP output power.The suv is also available in AMT version in India.
Toyota Fortuner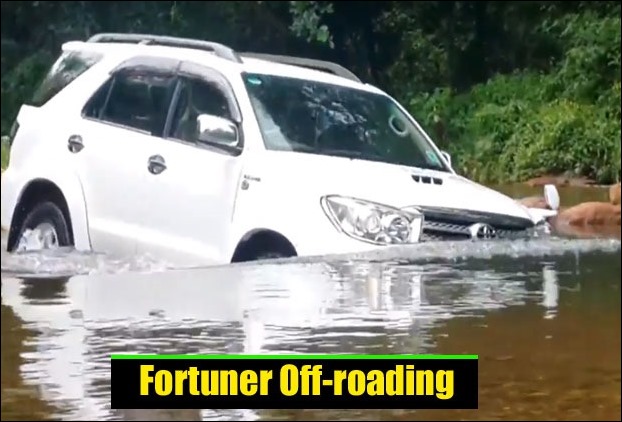 Price : Rs 31.48 lakhs (*showroom price)
Water Depth Sustainability : 700 mm
The 6-speed automatic gearbox suv ,Toyota Fortuner , has 2.8L diesel engine.The power that car generates is 175 BHP at 3400rpm.It generates 450Nm torque on rpm between 1600-2400.The manual version generates 30Nm less torque than its automatic version.The suv's 2.7L 4cylinder VVTi petrol engine outputs 166 BHP power and 245Nm torque.The cars petrol engine comes in 5-speed manual and 6-speed automatic options.The 4X4 All Wheel Drive option is only present in its top variant which delivers 12.9 kmpl mileage on 1 liter of petrol.
Jeep Compass
Price : Rs 20.65 lakhs (*showroom price)
Water Depth Sustainability : 406mm
Compass by Jeep is available in 2 engine versions one is 1.5L multi air turbo-charged petrol engine and other is 2.0L turbo-charged diesel engine.The petrol engine renders 60 BHP power and 250 Nm torque.Similarly , the off-road suv's diesel engine delivers 170 BHP power and 350 Nm torque.Both the engines of Jeep Compass are equipped with 6-speed manual transmission.Additionally , its petrol version has also been given the option of 7-speed dual clutch automatic gear box.The diesel version of Jeep Compass has 4X4 4 Wheel Drive option.
Tata Hexa
Price : Rs 16.85 lakhs (*showroom price)
Water Depth Sustainability : 400mm
Tata Hexa is a selected bunch of suv's in India which delivers impressive mileage both on road and off-road.The Tata SUV has all wheel drive option available in its top XT variant category.The top variant Hexa XT has 19 inch alloy wheels apart from Automatic Climate Control , Roof Rails,Fog Lamps and DRL.
This variant has 2.2L VARICOR 400 turbo diesel engine which is 2-way power tuned and generates 154 BHP of power.While all models of Hexa receive 6-speed manual gear box , its base variant , has been given 5-speed manual gearbox.
XUV 500
Price : Rs 17.73 lakhs (*showroom price)
Water Depth Sustainability : 350mm
XUV 500 suv has power 4X4 (AWD) option available in W10 variant.The 2.2L M-Hawk Engine of W10 Variant generates 140 BHP Power and 330 Nm Torque.It is a nice off-road suv under Rs 20 lakhs.The 1997 cc diesel vehicle's ground clearance is 200 mm and has a mileage of 16 kmpl.