The Indian market, scooters which started with Bajaj and LML, was considered to be an old-fashioned ride after the bike. After the year 2000 no one wanted to ride a scooter. Although, two-wheeler manufactures continued their experiment with scooters. Since 2010, the automatic scooters return in the Indian market.
Today, these automatic scooters dominate the Indian market.These are the 8 best scooters in the Indian market.
1

Honda Activa 4G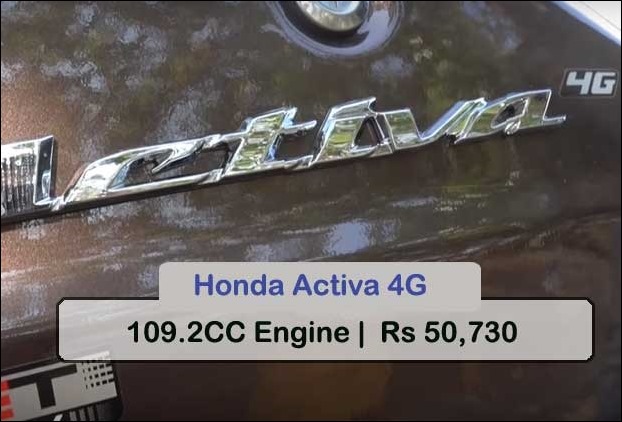 Honda Activa 4G is a great and reliable option in the variant of automatic scooter. In fact, Activa is one of the most trusted names in the market of automatic scooters. The Honda Activa 4G comes equipped with 109.2 cc engine. As far as mileage is concerned, it delivers a mileage of 60 kmpl. It has a top speed of 82 kmph. The on-road price of this scooter in Delhi is Rs 56 thousand.
Recently , Honda Activa model was updated with 4G BS IV compliant engine and new re-designed front center cover and mobile charging port.
2

Honda Activa 125
Honda launched Activa in two variants. The second variant of Honda is of 125 cc and comes equipped with 124.9 cc engine. The Activa 125 has a special position in the Indian scooter market. As for mileage, it returns a mileage of 60 kmpl, as the company claims.
The Activa 125 has a top speed of 85 kmph. The on-road price of this automatic scooter in Delhi is Rs 64 thousand. It is noteworthy that the Honda Activa 125 is the first scooter in the Indian market to be BS-IV emission norm compliant.
3

Hero Maestro
Hero Moto Corp ventured into gearless automatic scooter segment after parting ways from Honda.The 110 CC Engine Maestro Edge scooter launched in 2015 in India may be an another better option for the buyers.
The scooter received excellent response from the customers and went on to become the highest selling gearless scooter of Hero MotoCorp.The scooter can deliver up to 65.8 kmpl mileage.Its top speed is 85 KMPH and price in India is Rs 56,000.
4

TVS Jupiter
TVS Jupiter is also available in bold Avatar with a 109.7 cc engine.The scooter gives a mileage of 62 Kilometer per liter of petrol.The top speed of this gearless automatic scooter is 85kmph.The scooter has an on road price of approx. Rs 55,000.
TVS Jupiter 2017 was recently launched with BS IV Engine.Its top most variant of TVS Jupiter 2017 'ZX' (Rs 53,666) has now been equipped with disk brakes.
5

TVS Zest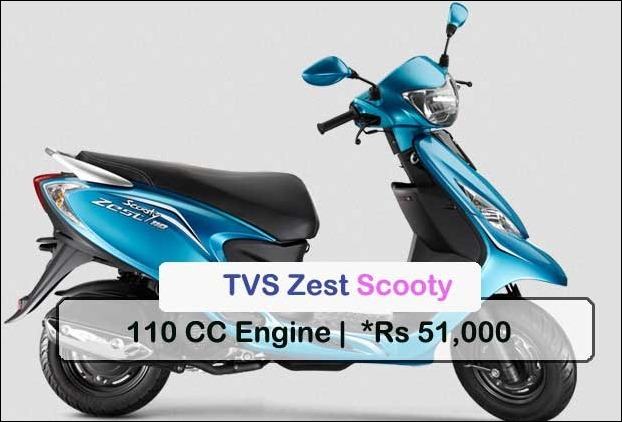 TVS Zest Scooty is a girl centric gearless scooty which has been available in the market for quite sometime.With 110 cc engine Zest engine is as powerful as other scooters in the segment.The mileage of TVS Zest is 62 kmpl and the top speed is 80kmph.It has an on-road price of approx. RS 51000 in India.
6

Mahindra Gusto 125
Mahindra Gusto is a popular bike among Indians which is consistently making its market presence felt.The 109.6 cc automatic scooter is an excellent option for customers.The Gusto has an on-road price of Rs 51,000 and delivers mileage of 63.7 kmpl.Mahindra Gusto has a top speed of 80kmph.
7

Yamaha Fascino
Yamaha Fascino is a very good option in gearless scooter for men and women.The youth centric scooter has been launched in a sporty look with 113 cc engine.In one liter of petrol it delivers a distance of 66 kilometers.The automatic scooter has a approximate cost of Rs 61000 and a top speed of 80 kmph.
8

Suzuki Access 125
The 124 cc stylish Suzuki Access 125 gearless scooter has the most powerful engine among all of the above.According to official claims the mileage of this scooter is 64 kmpl.The powerful engine helps Suzuki Access 125 attain a top speed of 91 kmph.The on-road price for Suzuki Access 125 is Rs 60,000