The Indian auto industry is focusing gradually on increasing the market of electric cars. There are two reasons – first, the price of petrol and diesel is increasing day by day, and secondly because of these fuel driven vehicles, the environment is polluted too. At the same time, people of India are known for 'value for money' and most of them prefer to buy diesel version cars instead of petrol – powered cars to save money.    
Currently, to run diesel sedan in India costs Rs 3.8 per kilometer and to run petrol version car costs Rs 5.5 per kilometer. While, to run a CNG car costs Rs 1.9 per kilometer. 
On the other hand, if you use a battery – powered car then you can save a lot of money. The cost of electric vehicles is fixed on the basis of the cost of electricity. According to the power of Rs 7 per kWh (kilowatt hour), the cost of running it is about Rs 1.1 per kilometer. Hence, if you run the car 5000 km for one year then you can save up to Rs 20,000.
Discover ! the best electric cars with Re 1 running cost.
Mahindra e2o Plus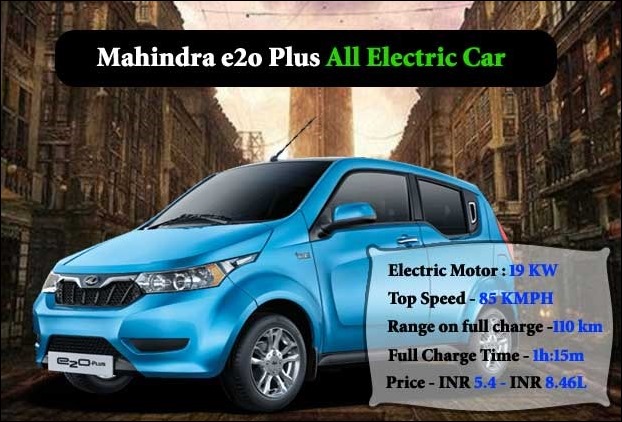 As a matter of fact, Mahindra and Mahindra Limited is the first company in India to start manufacturing and selling electric cars. The company had introduced the first two – door Mahindra e2o (erstwhile Reva E2o) electric car. The ex- showroom price of the Mahindra e2o Plus starts from Rs 5.46 lakh and goes up to Rs 8.46 lakh.
The car comes fitted with a 19 kilowatt electric motor, which generates 26 bhp of power and 70 Nm of torque. Its top speed is 85 kmph. Once full charge, it can be run up to 110 km. The cost of running this car 1 km is just Rs 0.45. Its battery is charged in one hour and fifteen minutes with Mahindra quick charger. 
Mahindra e-Verito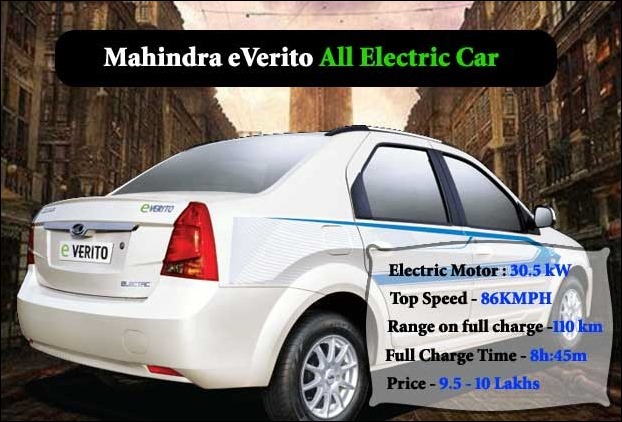 The second electric passenger car of Mahindra and Mahindra Limited is – the e-Verito which is, in fact, electric sedan car of the company. This car is equipped with the same motor which is in the Mahindra e2o Plus. Its price tag lies between Rs 9.50 lakh and Rs 10 lakh. All prices are is ex- showroom, Delhi.
Also, it is offered with a 72V 3- Phase AC induction motor that produces 41 bhp of power @ 3500 rpm and 91 Nm of torque @ 3000 rpm. The top speed of this car is 86 kmph. Once full charge, the car can run up to 110 km. The cost of running this car 1 km is Rs 1.15 only. 
Toyota Camry Hybrid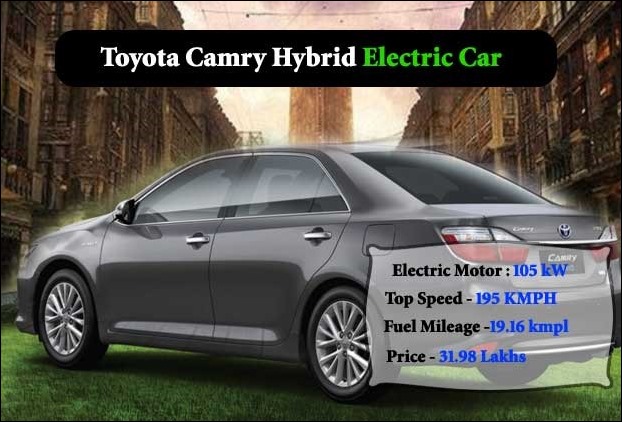 Toyota Camry is the top brand hybrid car available in India. This hybrid car is available in both petrol and diesel variants, and the Camry is a plug – in hybrid electric vehicle. This car is gradually becoming popular in India. The price of this car is INR 31,98,500. The price is ex- showroom, Delhi.      
This car has 2494 cc engine, which generates 202 bhp of power (hybrid) and 44 bhp of power (electric motor) and torque of 213 Nm. It has a fuel economy of 19.16 kmpl.
Honda Accord Hybrid
The name of Honda Accord Hybrid also comes in electric cars of India. Japanese automobile company Honda has recently introduced hybrid variant of Accord in India. The ex- showroom price of the Honda Accord Hybrid is Rs 37 lakh.       
It has 2.0- liter 1.3- kWh lithium- ion battery pack that produces 145 bhp of power and 175 Nm of torque. The car has a fuel economy of 23.1 kmpl.