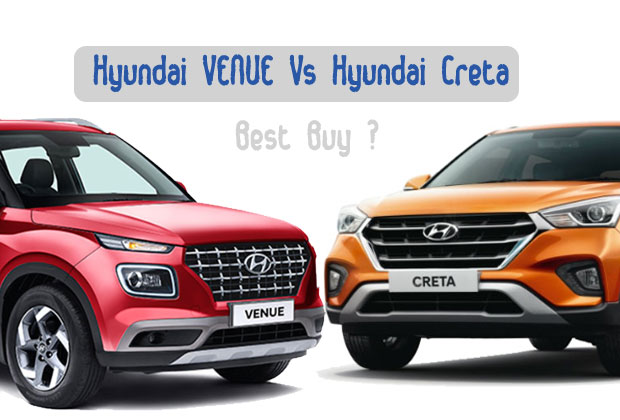 The newly launched Hyundai Venue subcompact is garnering a lot of attention these days due to lucrative pricing, and exciting features. The car has been launched in the same segment where Tata Nexon, XUV 300, Maruti Brezza and Ford Ecosport exists.
When we talk about comparing Hyundai Venue to Hyundai Creta, we must remember that both vehicles are in different buyers category. So, while Hyundai Venue is in the subcompact SUV segment, the Creta is positioned in the compact SUV category.
However, some features introduced in the latest Hyundai Venue car has some advantages over Creta. Let us compare the Venue and Creta to get an overview.
Engine Availability: Both have 3 trims
Both these Cars Venue and Creta are available in 3 engine options. So, while Creta has 2 diesel and 1 petrol engine models in India, Hyundai Venue gets 2 petrol engine versions and 1 diesel engine model.
Engine Power
The least powerful engine of Hyundai Venue is 83 ps powered while Creta has 89 ps powered. The most powerful engine in Hyundai generates 120 ps power which is again less than 126 bhp of Creta.
Hyundai Venue has 83 ps powered 1.2l petrol engine attached to a 5-speed gearbox. Its other petrol engine outputs 120 ps. The diesel version of Hyundai Venue generates 90 ps of power.
On the other hand, Creta has 89 bhp powered 1.4l diesel engine, 126 bhp generating 1.6l diesel engine and 121 bhp powered 1.6l petrol engine. The engines are attached to a 6-speed gearbox in both manual and automatic options.
Mileage : Venue vs Creta
Petrol Model
The 1.2l petrol engine powered Hyundai Venue subcompact has a mileage of 23.7 kmpl. Its 1.0l turbo petrol trim level has 18.27 kmpl mileage in manual gearbox options. In automatic transmission 1.0l Venue mileage clocks to 18.15 kmpl. In comparison, the Creta 1.6l petrol engine delivers 15.29 kmpl mileage.
Diesel Model
In the diesel engine model, Hyundai Venue delivers 23.7 kmpl of mileage. On the other hand, Creta 1.4l diesel version has 21.38 kmpl mileage. Also, Creta's 1.6l diesel engine model in manual transmission outputs 19.67 kmpl mileage and amt one has 17.01 kmpl mileage.
Price
While Hyundai Venue pricing has unsettled the rivals in the segment, Hyundai Creta price is higher due to its being a bigger car. So, while Hyundai Venue price ranges between Rs 6.50 Lakh- 11.10 Lakh, Hyundai Creta price falls between Rs 10.0 Lakh – Rs 15.65 Lakh.
Which one to buy ?
Let us not forget that Hyundai Venue is below 4 metres in length while Creta is comparatively longer. People are curious about both these cars because they look similar.
The stylish look, several engine availability options and equipped with hi-tech features is what attracts the buyers towards these offerings. Hyundai Creta can attract potential buyers of Creta who want more within budget constraints.