Maruti Eeco van car is powered with 1200cc petrol engine clubbed to a five speed manual transmission with DSA.Interestingly ! , most car experts are convinced that it is perhaps the new avatar of Maruti's old Omni Van .There are two versions of the new Eeco one 5 seater and another 7 seater without AC.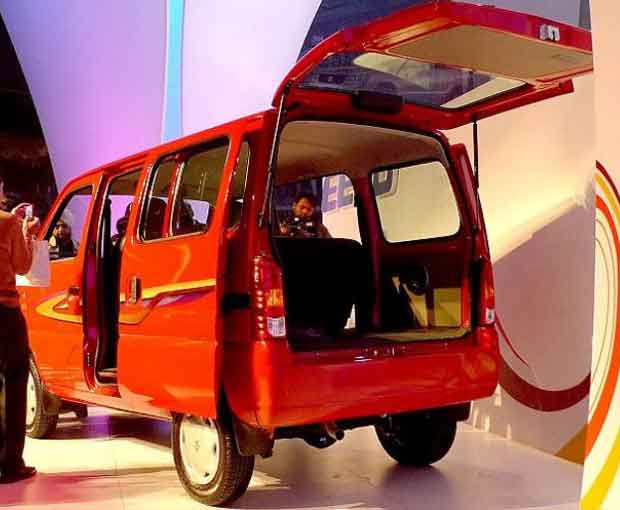 Eeco's Engine & Mileage
The engine of Maruti Suzuki Eeco ranges with a maximum speed of 73bhp at standard 6000rpm. The torque power is sufficient to pull the wagon to any level of high without any stumble in the engine. The shaft that links the engine with the wheels can withstand high torque and power.
The car has a mileage of approx 14.0 km/l in city and 16.0 km/l on highways.The turning radius of car is 4.5 metres with suspension system which faciliates great confort on indian roads.
Further , the new car delivers the engine power to the wheels with less amount of energy loss. Technically speaking, Maruti Suzuki EECO is considered to be one of the best in the car market. Under the category of cheap cars, this new maruti van car seems to dominate all other cars in the price tag.
Car Interior and Safety
When coming to cars, the design of car's body is very important. The design should have to be attractive to the customers as it's the only parameter that stuck them at the first sight. This maruti new car model 7 seater has also crossed the design segment with its classic piece of design.
This low cost maruti car has plenty legroom and headroom at the front and rear for passengers.Driving is also confortable due to ample space. The extreme braking system is the added credit to the Maruti Suzuki EECO.
The braking system of maruti eeco van has ventilation disc followed by the brake drum at the rear end. This provides huge power to stop the car even if the car moves at higher speed.
Price & Variants
The new Maruti EECO car has entered the market in three variants. Along with that 5 seater standard, 5 seater AC and 7 Seater standards are the other forms of rides available. The showroom price of three versions is approx 2.59lakhs, 2.85lakhs and 2.89lakhs respectively.
Performance & Drawbacks
The drawbacks of the car and performance on the Indian roads is yet to be tested , however , from some of the user feedbacks , they are not too exited about the look of Maruti Suzuki Eeco but , who said ?, maruti makes great designer cars !
Maruti Eeco 7 seater price in Sep , 2011 was 3.04 lakhs while Maruti Eeco 5 seater price was 2.8 lakhs.The maruti eeco CNG price was 3.44 lakhs (heater) and 3.79 (AC) lakhs respectively.
Top Advantages
Cheapest 7 seater car in the market
Availability in two variants 5 seater & 7 seater
low maintenance low range suv
Top Disadvantages
Rear seats have no head rests , less legroom
Interior has poor cushioning
Ac option comes only with 5 seat model
There are no rear ac vents