Maruti Suzuki is one of the top automobile manufacturers in India and also displays their stylish works to the world market too. Maruti Suzuki A-star is the latest model given to the market from Maruti by the month of March.After the moving sales, this car is considered as the India's fuel efficient car. A-Star proved its preeminence with the impressive mileage by 39.48km/l.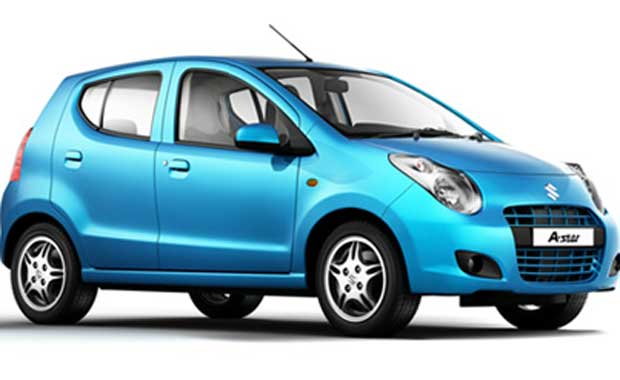 Engine
The engine has attained the new generation with the three cylinders and light weight aluminum K10B implementation. The capacity of the engine is 998 cc with 67rps at 6200rpm. The torque of the engine is 90nm at 3500rpm. The torque curve of this car is flat which provides handy control of the car.
Gear Shift
The spacious region inside the car is the benefit point while taking for long drive. The inner designs are the other segment where we will get the great pleasure. The inner designs has changed the trend and made it the best car among the car lovers.This model reaches the European norms with its exterior style. The significance of gear system is huge when driving under the city areas. It will move smoothly between gears and offers painless drive to the person who drives it.
Brakes
Braking system of Maruti Suzuki A-star is excellent under sharp turns and sudden stop. It can stop the car in fraction of second which moves in high speeds.The ground clearance of 170 mm and 4.5 meters of turning radius of this car makes it the perfect Indian car.The suspension spring coil is made of high-grade steel to add the strength of the suspension system.
Colours
The front and rear suspension provides the riding comfort with ideal handling for the Indian roads.Apart from the designs and the look, it comes with striking colors for the customers. Also the material used in this car is 85 percentages recyclable. The material such as lead, cadmium, mercury and chromium out of which the car is built can be recycled in to another product.We assume that this maruti car will prove to be a right choice for all level of people due to its features.
| Pros | Cons |
| --- | --- |
| Cool and sporty look of the car including interior and space . | Boot space may not seem to please some people. |
| Great grip on the road with excellent break system. | Back seat space does not seem to accomodate 3 grownups comfortably. |
| Engine accelerates fast to provide a great pickup. | Engine makes noise at higher speed |