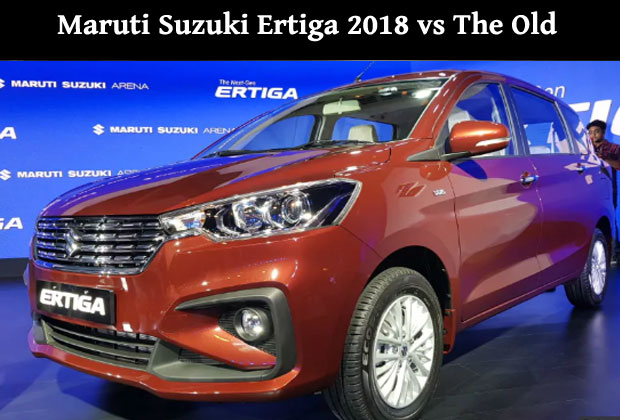 So, the Maruti Ertiga new model 2018 is here! The company has launched this budget 7 seater MPV in a new incarnation. Ertiga has no immediate rival in its category, but it can be compared to recently launched Marazzo MPV with similar features, albeit a bit higher pricing. Furthermore, it is one of the cheapest 7 seater cars in India.
Let us find out the features and changes in the new model of Mahindra 2018.
Dimensions Compare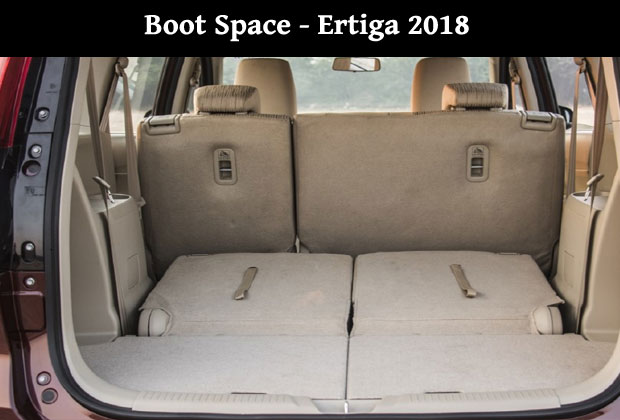 From this version, the car has been completely shifted to the safer Heartec platform which Maruti claims to be lighter, rigid and more fuel efficient. Not to forget! The old version of Ertiga car was using Maruti Suzuki Swift's platform which was heavier than this new one.
As compared to the older model of Ertiga, this one is longer and wider. The mpv has more shoulder space and luggage room. The second-row seats can now be slide back and forth unlike the older version.
The new Ertiga measures 4395 mm long, 1735 mm wide and 1690 mm high. The wheelbase remains unchanged in Ertiga 2018 measuring 2740 mm.
New Ertiga vs. Old Ertiga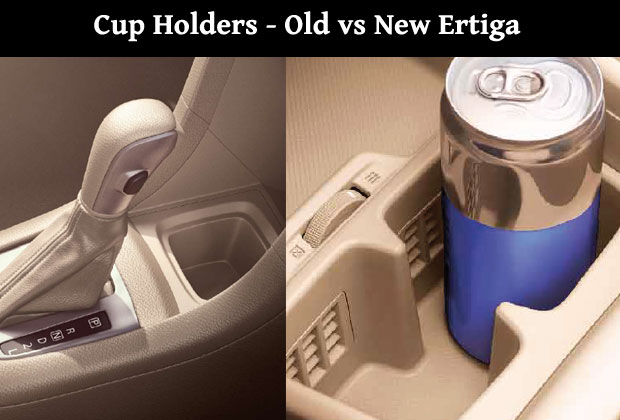 | | | |
| --- | --- | --- |
| Dimensions | Maruti  Ertiga 2018 | Maruti Ertiga Old |
| Length(mm) | 4395 | 4296 |
| Width(mm) | 1735 | 1695 |
| Height(mm) | 1690 | 1685 |
| Wheelbase(mm) | 2740 | 2740 |
| Ground Clearance(mm) | 180 | 185 |
| Boot Space (litres) | 153 | 135 |
| Kerb Weight Petrol | 1135-1170 | 1135-1180 |
| Kerb Weight Diesel | 1220-1245 | 1235-1265 |
At the front end, the introduction of new projector headlamps, Chrome grills, and L shaped LED tail lamps enhances the look of new Ertiga. The use of chrome finish in the exterior adds to its attractiveness. The new Ertiga also has air-cooled cup-holders, and bottle-holders and accessory socket in each row.
About Seating 
The new version of Maruti Ertiga 7 seater MUV is bigger and has more interior space. The boot space is 18 litres more than the earlier version of Ertiga. For large families who prefer to have a comparatively low-cost and more space SUV,  Ertiga might be a better option for the best 7 seater family car in India.
The enhancements in comfort for the third-row passengers may drive more sales in the new avatar. Not to forget, the third-row seats have a head-rest which was missing in older versions of Ertiga.
The other important thing about new Ertiga is that it now has a BS IV compliant engine.
Colours Availability new vs old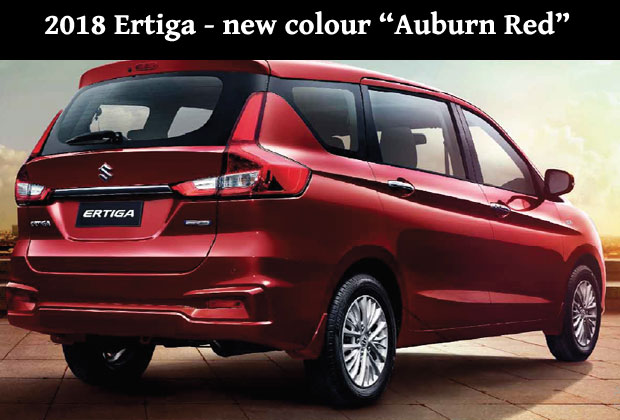 The new Ertiga SUV 2018 has been made available in 5 colours – 4 metallic and 1 non-metallic. The available shades are – Auburn Red, Oxford Blue, Magma Grey, Silky Silver, and Arctic White.
The previous versions of Ertiga had two shades of blue i.e. Serene Blue and Pearl Blue Blaze. Now, we have only one blue shade as Oxford Blue. The addition of Auburn Red colour in the new lineup is another change in-terms of colour availability.
The engine of new Ertiga 2018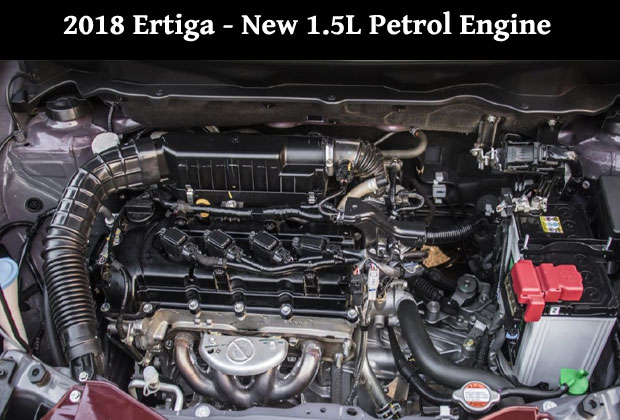 Engines have received both diesel and petrol variants for the new version of Ertiga. The new 1.5 litre petrol engine outputs 103 bhp power at 6000 rpm and 138 Nm torque at 4400 rpm. The 2018 version of Eritga has 1462 cc displacement capacity in K15 Smart Hybrid petrol engine. This means, we now have about 100cc  more in new Ertiga than the old Ertiga 1.4-litre, four cylinders K-series petrol engine with a displacement capacity of 1373 cc.
Talking about the diesel version Ertiga, the old model of Ertiga had 1248 cc diesel engine remains the same in the current Ertiga model. Unlike previous versions, CNG engine option is still missing in new Ertiga. This is because the car manufacturer is still working on fine-tuning of the K15B motor and its Smart Hybrid system for the CNG variant.
Petrol Engine Compare: New vs. Old
 
Maruti  Ertiga 2018
Maruti Ertiga Old
Petrol
MT
AT
MT
AT
Engine (litres)
1.5
1.4
Power ( BHP @rpm )
103 @ 6000
68 @ 6000
Torque (Nm @rpm
138 @ 4400
130 @ 4000
Power/Weight (BHP/ ton)
65-68
58-60
Torque/Weight (Nm/ton)
118-122
110-115
The diesel engine of Ertiga 2018 has received 1.3 litre of displacement capacity. This engine outputs 90 bhp of power at 4400 rpm and 200 Nm of torque at 1750 rpm.
Diesel Engine Compare: New Vs. Old
 
Maruti  Ertiga 2018
Maruti Ertiga Old
Diesel
MT
AT
MT
AT
Engine (litres)
1.3 litre DDiS 200
1.3 Litre DDiS 200
Power ( BHP @rpm )
89 @ 4000
66@ 4000
Torque (Nm @rpm
200 @ 1750
200@1750
Power/Weight (BHP/ ton)
73-71
53-52
Torque/Weight (Nm/ton)
164-161
162-158
As compared to this Mahindra Marazzo is available in only the diesel variant with 1.5 litre engine capacity which outputs 121 bhp power at 300 Nm torque.
In the new Ertiga multi-utility vehicle, both engines are equipped with 5-speed manual transmission gearbox. In its petrol variant, we also get the option of 4-speed automatic gearbox.
On the other side, Mahindra Marazzo was given 6-speed manual transmission gearbox, and there is no option for AMT gearbox in any of its variants.
Mileage of Ertiga 2018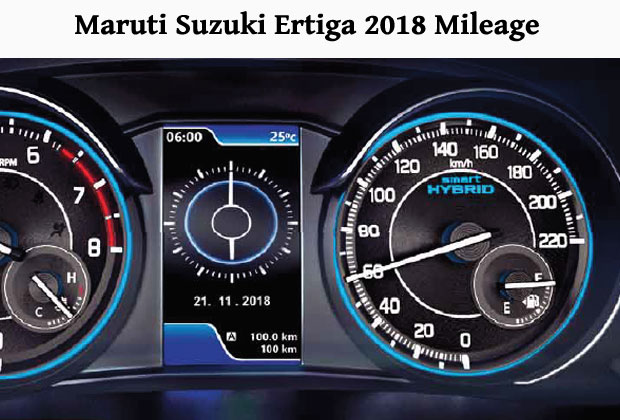 In terms of fuel efficiency, the mileage petrol engine Ertiga with a manual transmissionis19.34 km/l while the amt petrol version has a mileage of 18.69 km/l. The Diesel Ertiga variant offers 25.47 km/l mileage on Indian roads.
Mileage compare: New vs Old
| | | |
| --- | --- | --- |
| Engine Type | Maruti  Ertiga 2018 | Maruti Ertiga Old |
| Petrol | 18.69 Km/l | 17.50 Km/l |
| Petrol AT | 18.69 Km/l | 17.03Km/l |
| Diesel | 25.47 Km/l | 24.52 Km/l |
Interior of new Ertiga
The dashboard of this Ertiga has received faux wood trim for a premium look. The SmartPlay infotainment system now takes center stage which was earlier placed below ac vents. The air-conditioner vents also looks more attractive than the previous model.
Unlike the old Ertiga, the new one has more space for rear passenger seating. We have seen that third-row seating has been a problem in Ertiga and now in this version this issue has been settled. The new 50:50 split third row enables reclining of seats for passenger's comfort and convenience. The second row has received ac vents with dual beige theme dashboard interior.
In comparison, the more spacious Mahindra Marazzo uses light beige cabin theme with piano black finish dashboard. The Mahindra MUV comes in both 7 and 8 seater options.
Both Marazzo and Ertiga are now equipped with Android Auto and Apple CarPlay supported touchscreen infotainment system. The safety features are also similar with both cars receiving dual front airbags, ABS with EBD, ISOFIX child seat mount and brake assist features.
While starting price of new Ertiga is Rs 7.44 Lakh, the new Marazzo begins with a price of Rs 9.99 Lakh. The top variant of Marazzo has a price of Rs 13.90 Lakh while new Ertiga is less expensive at Rs 10.90 for the top end.
Price of Ertiga – variant wise
Petrol Engine(Manual)
LXi (7.44 Lakh)
VXi (8.16 Lakh)
ZXi (8.99 Lakh)
ZXi+ (9.50 Lakh)
Petrol Engine (AMT)
VXi (9.18 Lakh)
ZXi (9.95 Lakh)
Diesel Engine (Manual)
LDi (8.84 Lakh)
VDi (9.56 Lakh)
ZDi (10.39 Lakh)
ZDi+ (10.90 Lakh)
Ride Quality of 2018 Ertiga
The new Ertiga 2018 is 20kg lighter than the older Ertiga. The car engine (petrol) makes a decent output but the noisy engine needs more refinement. At a higher speed, the external noise seems into the cabin.
The car has a nice grip on the straight highway roads and passengers do not experience any discomfort in long journeys. The car, however, causes body roll when you take a turn at high speeds.