Nano, one of the most talked about cars in the recent times, is the world's most affordable car. It is the middle class family's ultimate car. Best suited for smaller roads and small cities, it easily treads through bumpy roads, narrow lanes and has everything a small happy family would want. As soon as this car launched many curious heads went ahead to explore it and found it to be very cost friendly and cute looking. So let's head towards the next sections and read the all new Tata Nano 2012 review.
Engine and technical specifications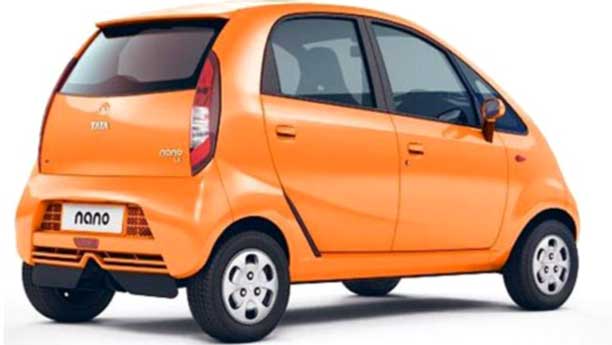 Powered by a 624 cc engine placed at the rear of the car, gives a maximum power of 37 bhp and 5.2 kgm torque. The dimensions of the car clearly indicate towards its compact design. They are 3099 mm length, 1652mm height and 2230mm wheel base. The ground clearance comes to 180 mm. The new Tata Nano weighs 635 kgs and the boot space is 80 litres when seats aren't folded. On folding the seats the space becomes 500 litres. The maximum speed attained by this hatchback is 105 kmph. For both front and rear, Nano has drum brakes and the tyres are tubeless.
Exterior design
This time around the Tata Nano has been introduced in two new colours; papaya orange and rouge red. Tata claims a new change in the design of the car but if you look beyond its new colours you won't see any change in the exterior. It is the same compact Nano with a very small bonnet and a flat rear too. It looks more like an enhanced and modernised auto rickshaw and nothing more than that, though we can also not ask much in such an affordable price range. Many small families are happily taking Nano home, in spite of its small frame. The small frames, many feel helps it makes its way through small and narrow lanes of a small city. This is the reason why many families are ditching their two wheelers for the Tata Nano.The little changes in the new 2012 Tata Nano are the passenger side's rear view mirror and the plastic wheel caps.
Interiors
Tata Nano is 21% bigger and spacious than the Marui Suzuki 800, so you can expect good space as Maruti 800 used to carry 4 adults comfortably. The interiors of Nano, unlike the exteriors have undergone some fresh new changes which will pleasantly surprise many people. The interiors look livelier now with the beige colour theme in the dashboard having a centre console and the silver finish new beautiful gear knob. The seats are also done up in beige colour making the cabin look roomier than ever before. The rear seats are made higher and more cushioned for a comfortable riding experience. The base variant is done up in graphite colour again making the cabin look beautiful. The pockets on the door are now bigger and the pads on the door are now two-toned. So you can find many new fresh changes in the cabin.
Performance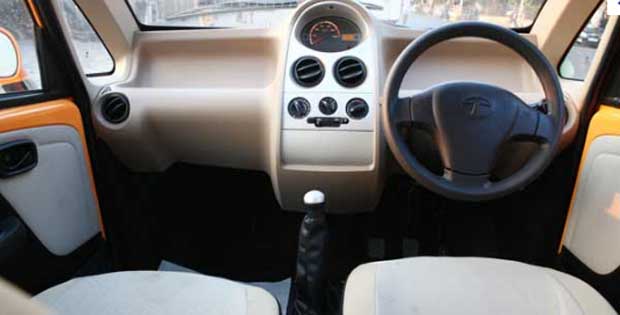 Contrary to early days of its launch, this time around as you start the engine you notice reduced noise and smoother ignition. The clutch has also been made lighter that before and gearshift also has gained some more smoothness. But as you go ahead and start driving the car everything looks still the same. No change is seen in its drive quality. Just like before you won't receive a very good response from the engine. Its low displacement makes the engine go through a lot if you try speeding up. Do not expect much from this car but a decent city drive. Thinking of a highway drive? Drop the plan right there. Hire a good sedan or an SUV and enjoy your highway drive.
Tata Nano is a very small car which will never make you feel comfortable or secure among the big heavy cars racing through the big highway roads. Nano misses on all the important features that all hatchbacks have in today's times the main being the power steering. The lighter steering wheel will help you take sharp turns in the narrow lanes. The car now appears much more stable during driving. ARAI tested new mileage by the Tata Nano is an unbelievable 25.4 kmpl! Now this is what Tata claims. You will have to buy it to see how far it is correct. The new revised suspension is performing better than before making the passengers inside the car feel more comfortable during bumpy and unfavourable road conditions.
Major Advantages
New fresh interiors
Better suspension
Lighter handling
Enhanced fuel economy
Affordable price
Major Drawbacks
Car occasionally makes a weird noise at low speed when ac is on on an uphill
Speed is enjoyable only upto 70-80 km/h exceeding that limit makes the engine starts make noise
Many basic features lacking
Verdict
Interestingly , Tata seems to be slowly removing its people's car punchline to the younger generation's first crush like product.Tata also undertook a major offensive last year to remove the glitch (starter motor) that was making its most affordable car catch fire at some instances.So there is nothing to fear about safety now.This new Tata Nano 2012 has been given new fresh changes.If you really want to own this compact hatchback and like its new upgradations, go for it!