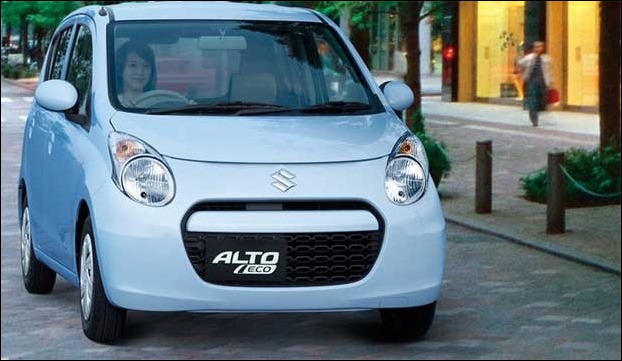 In the best selling cars in India in the 2018-19 list, Maruti Suzuki cars dominate again. Maruti has been able to sell a total of 18,62,449 car units (17,53, 700 domestic+ 1,08,749 exports). The top 10 best selling car list in India for 2018 – 2019 (March 2019) had 7 cars by Maruti and 3 cars by Hyundai.
Alto – The best Selling Car
Maruti Suzuki India highest selling cars include Alto, Dzire, Swift, Vitara Brezza and Baleno. Wagon R occupies the 6th spot while Celario bagged 10th position. 7-9 positions were captured by Hyundai i20, Hyundai i10, and Hyundai Creta.
Comparing car sales, this list is similar to the one we had in 2018. Last year we witnessed Maruti Swift Dzire as the best selling car but in 2019 we can see the Alto has again retained its top position (after March 2019 sales) which it was on for 13 years.
Car Sale Trends
Last year 2,58,539 units of Alto were sold in India but in 2019 it was able to sell 2,59,401 units. Similarly, in 2018  Swift Dzire saw 1,96,990 units been sold but this year it has sold 2,53,859 till March.
So, while Alto, Dzire, Swift, Celario, and Baleno improved its sales tally we can see that Maruti Suzuki Brezza sales were down with 1,57,880 Units. Similar were the trends with Grand i10 and Elite i20
| | | | | |
| --- | --- | --- | --- | --- |
| | Units Sold | 2018-19 | 2017-18 | Changes wrt last year |
| 1 | Maruti Suzuki Alto | 2,59,401 | 2,58,539 | Maruti Suzuki Alto (+1) |
| 2 | Maruti Suzuki Dzire | 2,53,859 | 1,96,990 | Maruti Suzuki Dzire(-1) |
| 3 | Maruti Suzuki Swift | 2,23,924 | 1,90,480 | Maruti Suzuki Baleno |
| 4 | Maruti Suzuki Baleno | 2,12,330 | 1,75,928 | Maruti Suzuki Swift |
| 5 | Maruti Suzuki Brezza | 1,57,880 | 1,68,644 | Maruti Suzuki Wagon R |
| 6 | Maruti Suzuki Wagon R | 1,51,462 | 1,51,113 | Hyundai Grand i10 |
| 7 | Hyundai i20 | 1,40,225 | 1,48,462 | Maruti Suzuki Brezza |
| 8 | Hyundai Grand i10 | 1,26,041 | 1,36,182 | Hyundai i20 |
| 9 | Hyundai Creta | 1,24,300 | 1,07,136 | Hyundai Creta |
| 10 | Maruti Suzuki Celario | 1,03,734 | 94,721 | Maruti Suzuki Celario |