Both Tata Tigore and New Maruti Swift Dzire 2017 are lucrative offerings.While Maruti Swift Dzire with a soul change looks great , the tata Tigore on the other hand was selling good as an affordable compact sedan over the few months.Both these cars fall under almost the same budget and it's the right time to compare Tata Tigore VS Maruti Swift Dzire 2017.
Tigor VS Dzire 2017 Looks Compare
Tata Tigor is less expensive while new Swift Dzire is a feature abundant compact sedan.In terms of exterior both sedans looks great.
Tata has tried to put best of the both world under an reasonable price.The car is based on Tiago with beltline to roof all in great shape.The car also gets a fresher look with its smoked headlamps apart from other changes.The rear side look of the Tata's sedan is better than new Dzire.
Against this , Maruti Dzire 2017 is based on swift hatch which has received a completely enhanced look from scratch.The Maruti sedan's bigger grille , LED DRL , A-Pillar all together gives a killer look.The chrome work on the tail lights deliver more stylish and premium look to the sedan.
Tigor VS Dzire 2017 Cabin Compare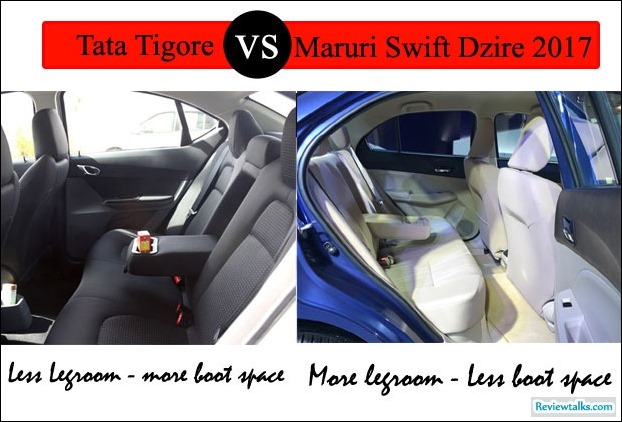 The new Maruti Dzire 2017 has for the first time used fox wood trim in its dashboard.This has given its steering and lower door panel a premium look.In the new Dzire's top model , features like bugger touch screen display , GPS navigation , Android Auto and Apple Car Play has been given and this is an edge over Tigor.With the increased space the rear seats of new Maruti Suzuki Swift Dzire 2017 rear seats have become very comfortable.
In comparison , in Tiago even after a increased wheelbase of 50 mm , the leg room for rear seat is less.The absence of rear ac vents is also its downside against Swift Dzire 2017.The cabin of Tata Tiago is smaller as compared to Maruti Dzire.
Tigor VS Dzire 2017 Features Compare
Tata Tigor was launched with touchscreen central console like features , however ,many features including Android Auto and Apple Car Play were absent.Among the best features of Tata Tigor against Swift Dzire 2017 by Maruti are , the availability of colour coded ac vents in its top variants , navigation which you can connect through a mobile app , rear camera and 8-speaker infotainment system of Harman.Tata Tigor performs better against new Maruti Swift Dzire 2017 in terms of boot space.The 410 litre capacity boot space of Tata Tigor out performs Dzire with just 380 liters.
Tigor VS Dzire 2017 Engine Compare
Both these sedans are also very different in terms of engines.
While Swift Dzire uses lighter 990 kg engine with high strength steel , Tata Tigor engine is more bulky with 1130 kg weight.The light weight engine of Dzire helps it to attain a better mileage.
Comparing engine power , Maruti new Dzire (82 BHP) uses 1.2 L K-Series 4 Pot Petrol and 1.3L Diesel Engine (74 BHP/190Nm) with 5-speed manual transmission.And Tata Tigor uses 1.2 L petrol engine which generates 83BHP.The 1.2 L diesel engine of Tata Tigor generates 69 BHP only as compared to counterpart with 74 BHP.
The suspension of Maruti Suzuki Swift Dzire is better as compared to Tata Tigor.Tata Tigor is still without AMT while Maruti has included AMT variant as well.As far as road performance is compared unlike Tata Tigor , the new Swift Dzire has an upper hand.
Tigor VS Dzire 2017 Price Compare
Now let us compare these cars in terms of price.Here , Tata Tigor , is more cheaper than the new Swift Dzire 2017.The price range for Tata Tigor Diesel is from Rs 5.6 lakhs (base price) to 7.9 lakhs for the top variant.In comparison , Maruti Dzire 2017 diesel is more expensive with its base variant starting from 6.45 lakhs all the way to 9.41 for the top variant.
Similarly , Tata Tigore Petrol is also less expensive than new Maruti Swift Dzire petrol variant.Tata Tigore 's petrol version base price is 4.7 lakhs which goes up to 6.19 lakhs for the top variant.Compared to that the petrol version of Maruti Swift Dzire 2017 car starts with a base price of 5.45 lakhs and goes up to 8.41 lakhs for the top variant.
In this scenario Tata Tigore sedan seems to be a better buy considering the features against price.
Now the question.Which one is best ? This seems to be a hard choice because if budget is concerned Tata Tigore seems to fit the bill. But if on the other hand if mileage and consequently low burden on recurrent expenditure is concerned definitely Maruti Swift Dzire 2017 seems to be a good buy.